Your privacy is very important to us. When you visit our website, please agree to the use of all cookies. For more information about personal data processing, please go to Privacy Policy. HuidaGene Therapeutics to Attend BIO-Europe Fall Conference in Munich for Actively Expanding Global Collaboration
2023.11.03 19:30
Views:377
· HG004 (granted both ODD and RPDD by the U.S. FDA) gene replacement therapy for inherited blindness completed first-patient dose in IIT trial and first-patient-dose in multinational, master protocol trial

· HG205 world's first CRISPR/Cas13 RNA-editing therapy for neovascular age-related macular degeneration completed first-patient dose in IIT trial
· HG204 world's first CRISPR RNA-editing therapy for the treatment of MECP2 duplication syndrome granted both RPDD and ODD by the U.S. FDA
SHANGHAI and CLINTON (NJ), November 3, 2023 – HuidaGene Therapeutics (辉大基因,"HuidaGene"), a global clinical-stage biotechnology company focused on developing CRISPR-based programmable genomic medicines, today announced that it will be attending the BIO-Europe® Fall Conference (BIO-Europe® Fall 2023) and participating in the One-on-One PartneringONE® scheduled from November 6-8, 2023, in Münich, Germany, as well as the digital partnering from November 14-15.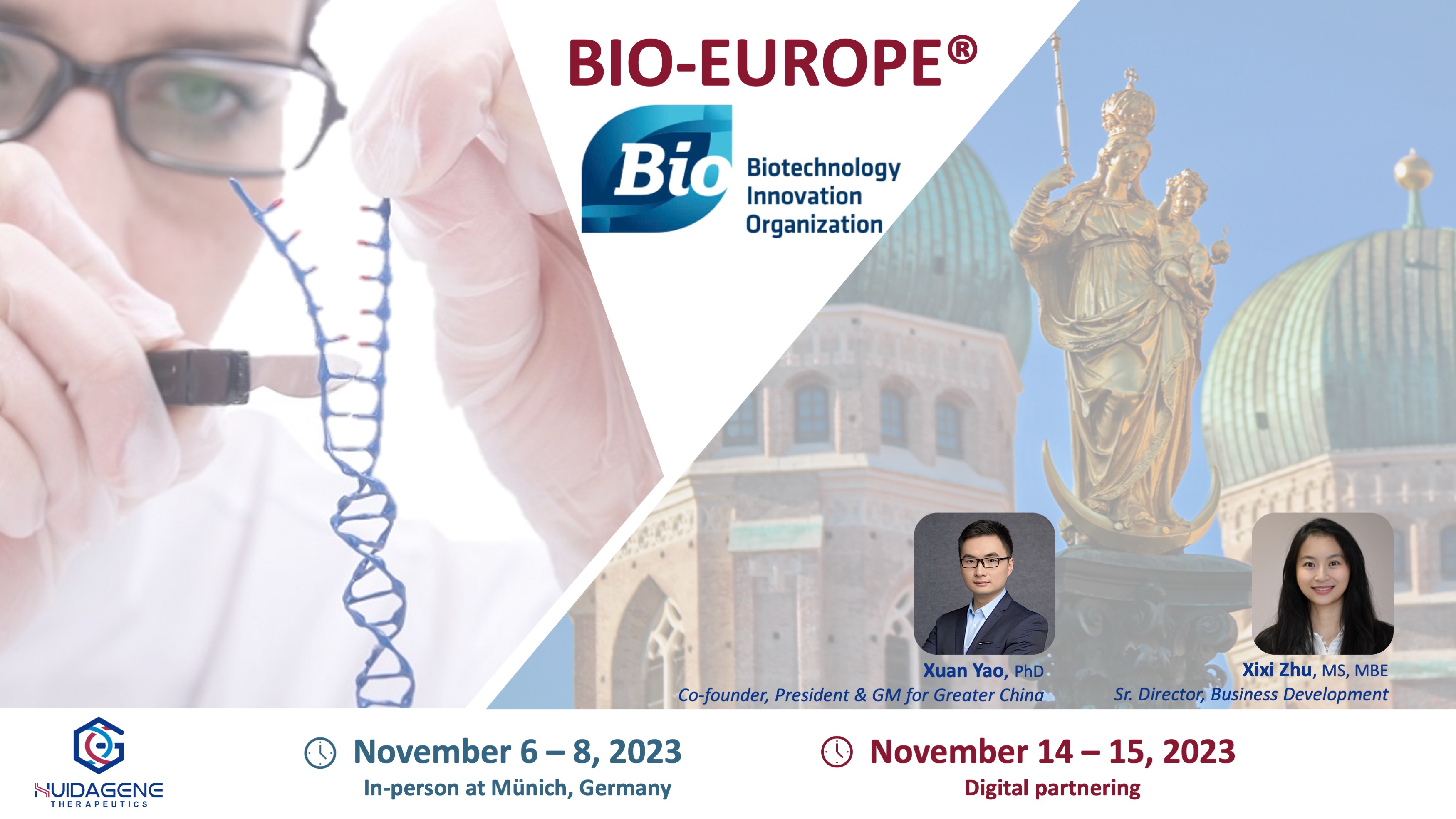 As one of the industry benchmark conferences for life sciences, BIO-Europe®, the premier partnering conference for the global biopharmaceutical industry, aims to promote the development of the global biotechnology industry and expand biotech innovation. The conference will convene over 4,000 life science professionals representing more than 2,200 companies from over 60 countries. Dr. Xuan Yao, Co-founder, President, and General Manager for Greater China of HuidaGene, and Ms. Xixi Zhu, Senior Director of Business Development of HuidaGene will attend the conference by presenting HuidaGene's cutting-edge gene-editing technology and innovative gene therapy product pipeline. Dr. Yao and Ms. Zhu will also host one-on-one meeting during the three-day event to actively exploring global collaboration to further expand global footprint.
Committing the Company's mission of developing innovative gene therapies for potential cures and delivering transformative genome medicines to patients worldwide, HuidaGene has achieved number of major milestones in 2023. Company's first clinical candidate HG004 (for the treatment of hereditary retinal diseases associated with RPE65 mutations) was granted orphan drug designation and pediatric rare disease qualification by the U.S. FDA, completed last-patient-dose in the investigator-initiated trial, or "LIGHT" (Leber congenital amaurosis Inherited blindness of Gene tHerapy Trial) clinical study (NCT06088992), and also completed first-patient-dose in the China first multinational, master-protocol Phase 1/2s clinical trial trial (NCT05906953; CTR20232920), or "STAR" (Safety and efficacy Trial of HG004 for leber congenital Amaurosis related to Rpe65 gene mutations). The second clinical candidate HG202 (for the treatment of neovascular age-related macular degeneration , nAMD) as the world's first CRISPR/Cas13 RNA-editing therapy dosed the first patient in September. Other gene editing preclinical projects in the fields of ophthalmology and neurology are also progressing steadily. Among them, HG204 (for the treatment of MECP2 duplication syndrome, MDS) has been granted both pediatric rare disease and orphan drug designations by the U.S. FDA. Furthermore, Company's research results have been presented in more than 30 oral and poster presentations at top international scientific conferences such as ASGCT, ESGCT, and JSGCT, demonstrating Chinese innovations in the field of gene-editing, including the development and application of novel gene- editing tools for Cas enzyme discovery and evolution based on Company's proprietary HG-PRECISE® platform.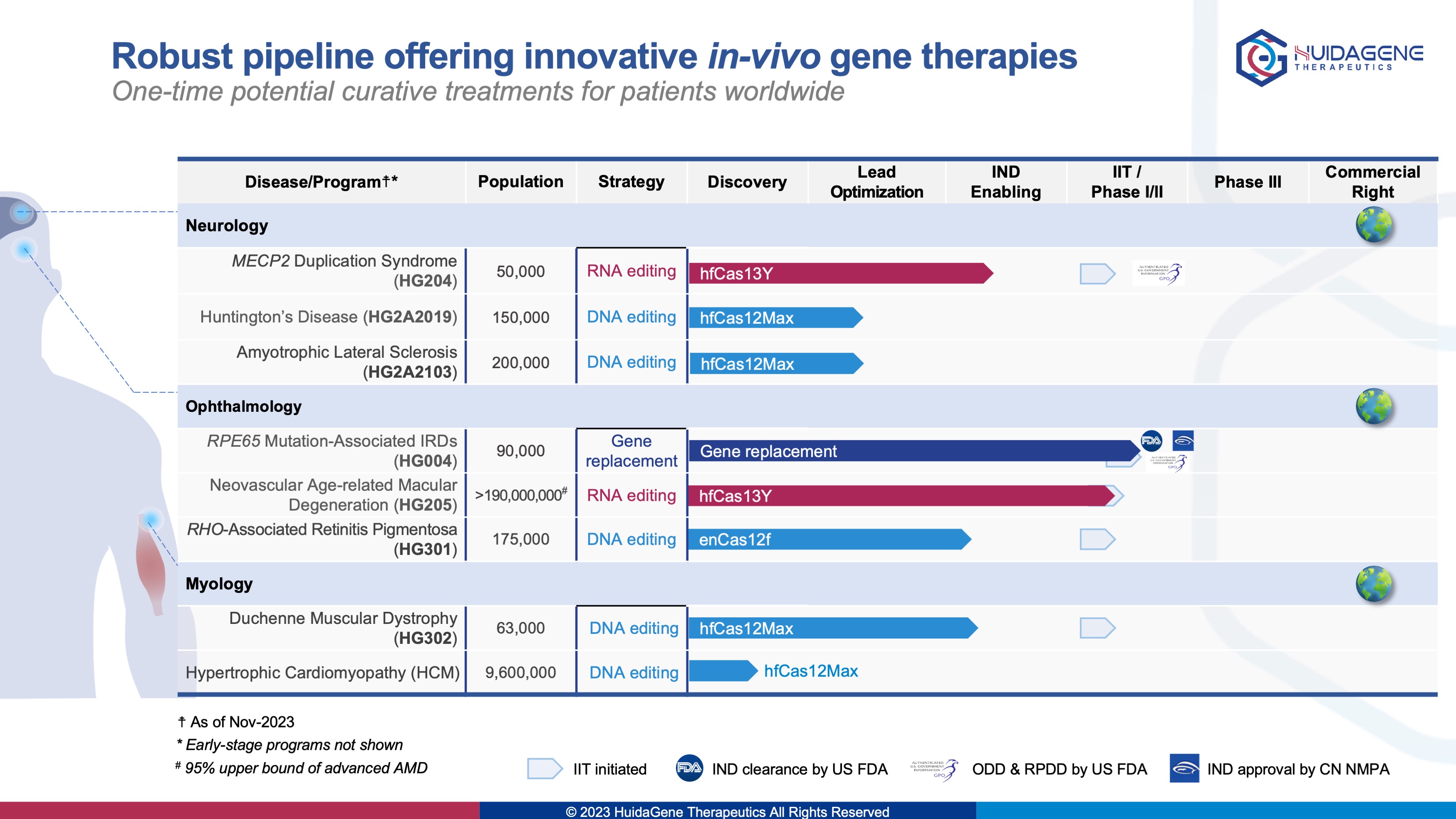 HuidaGene is currently actively exploring flexible collaboration models such as technology licensing and/or co-development and is eagerly looking forward to in-depth discussion with global pharmaceutical companies. We look forward to discussing Company's innovation at BIO-Europe®.
About HuidaGene - 辉大基因
HuidaGene Therapeutics (辉大基因) is a global clinical-stage biotechnology company focusing on discovering, engineering, and developing novel gene-editing tools and gene therapies to rewrite the future of genomic medicine. Based in Shanghai and New Jersey, HuidaGene is committed to addressing patients' needs globally with various preclinical therapeutic programs covering ophthalmology and neurology. We are currently advancing clinical programs of HG004 in inherited retinal disease caused by RPE65 mutations (which has been granted both ODD and RPDD by U.S. FDA), HG202 CRISPR/Cas13Y RNA-editing in neovascular age-related macular degeneration (nAMD), and our preclinical pipeline, including programs HG301 CRISPR/Cas12 DNA-editing in retinitis pigmentosa, HG204 CRISPR/Cas13Y RNA-editing in neurodevelopmental disease of MECP2 duplication syndrome (MDS) (which has been granted both RPDD and ODD by U.S. FDA), and HG302 CRISPR/Cas12 DNA-editing in neuromuscular diseases of Duchenne muscular dystrophy (DMD) etc. Company's CRISPR-based therapeutics offer the potential to cure patients with life-threatening conditions by repairing the cause of their disease. HuidaGene is committed to transforming the future of genome-editing medicine.
For more information, please visit http://www.huidagene.com
or follow us on LinkedIn at http://www.linkedin.com/company/huidagene