Your privacy is very important to us. When you visit our website, please agree to the use of all cookies. For more information about personal data processing, please go to Privacy Policy. HuidaGene Therapeutics Announces First Patient Dosed in Multnational Phase 1/2 Trial of HG004 for Inherited Blindness
2023.11.02 09:00
Views:428
· HG004 is the first China-developed AAV gene therapy medicine to be evaluated in a multinational, master-protocol clinical trial for patients with inherited retinal dystrophies caused by mutations in RPE65 gene
· HG004 is also first China independently-developed gene therapy drug granted both ODD and RPDD by the U.S. FDA
· HG004 is Company's first product candidate from robust pipeline of ophthalmology and neurology advances into the clinic
SHANGHAI and CLINTON (NJ), November 1, 2023 – HuidaGene Therapeutics (辉大基因,"HuidaGene"), a global clinical-stage biotechnology company focused on developing CRISPR-based programmable genomic medicines, today announced the first patient has been dosed in the multinational, master-protocol Phase 1/2a clinical trial (NCT05906953; CTR20232920) of HG004 gene therapy drug, or the STAR (Safety and efficacy Trial of HG004 for leber congenital Amaurosis related to Rpe65 gene mutations) study, an adeno-associated virus 9 (AAV9) gene replacement therapy candidate for the treatment of inherited retinal dystrophies caused by RPE65 mutations (RPE65-IRD), in Xinhua Hospital Affiliated to Shanghai Jiao Tong University School of Medicine.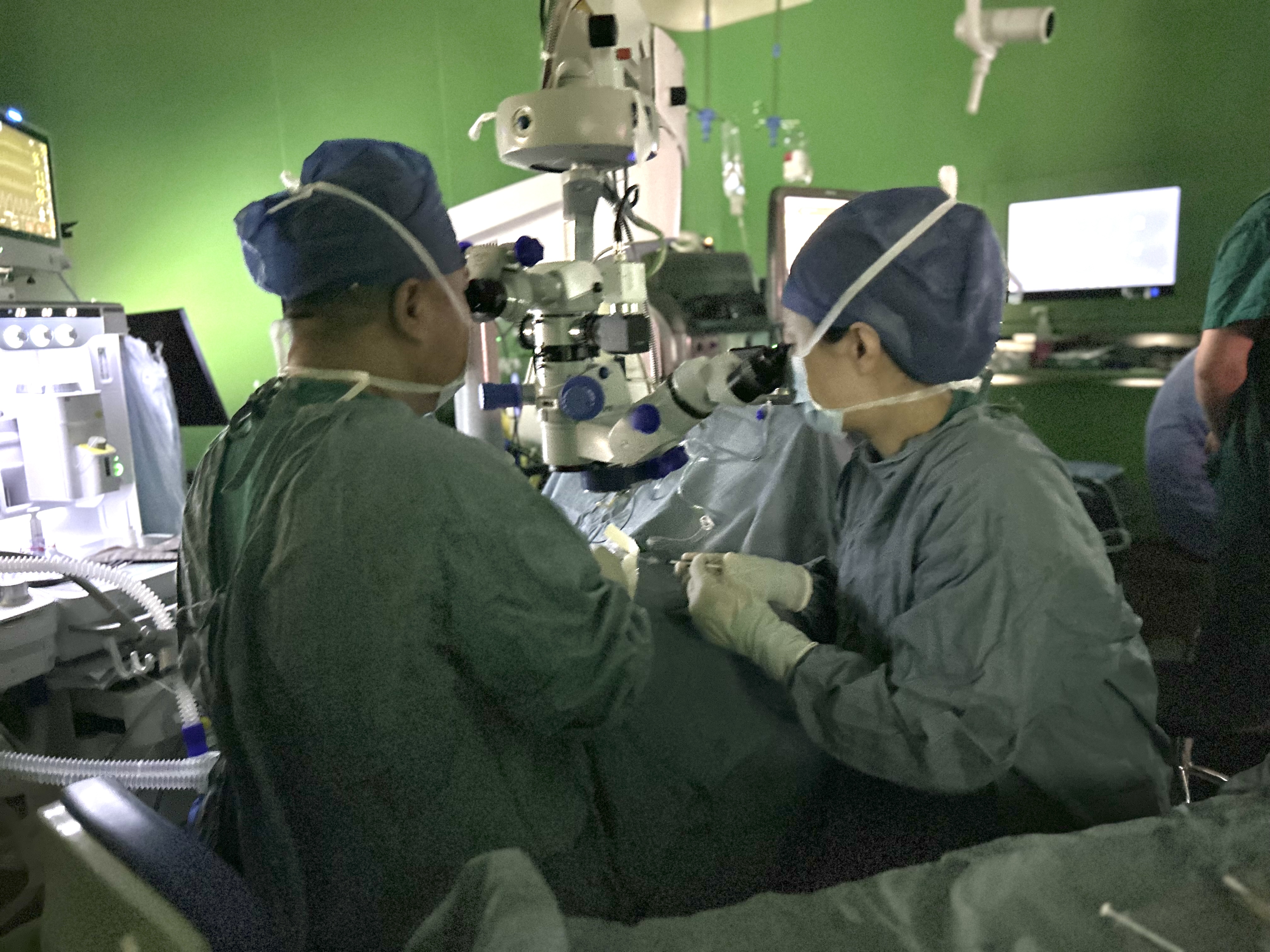 Professor Zhao Peiquan's team from Xinhua Hospital completed the First-Patient-Dose
"Commonly used AAV2 for RPE65-related retinal diseases requires high total vector dose and large injection volume emerging to safety concerns such as retinal detachment etc," said Alvin Luk, Ph.D., M.B.A., C.C.R.A., Co-founder and Chief Executive Officer of HuidaGene. "The efficient retinal transduction in the targeted RPE layers using HG004 for retinal disease allowing to lower both the total vector dose and injection volume has been validated in the HG00401 clinical trial for treating adults and children with LCA 2 and makes it likely that this therapy can also potentially treat the IRD caused by RPE65 gene, as suggested by the U.S. FDA. The unmet need is huge for over 55,000 patients living with RPE65-IRD worldwide. Everyone at HuidaGene is excited about this significant milestone as we're working closely with the sites in China and U.S. to develop a safer and more efficacious 'once-and-done' therapy for the RPE65-IRD patient community globally."
HG004 is an investigational gene replacement therapy product independently-developed by HuidaGene. This HG004 therapy uses the recombinant AAV9 (AAV9) vector to deliver a functional human RPE65 gene to the retina and to restore, treat, and prevent blindness of children and adults with RPE65-IRDs. HG004 was granted both orphan drug designation(https://www.prnewswire.com/news-releases/huidagene-receives-orphan-drug-designation-for-gene-therapy-of-blindness-301787815.html) and rare pediatric disease designation (https://www.prnewswire.com/news-releases/huidagene-therapeutics-receives-fda-rare-pediatric-disease-designation-for-hg004-to-treat-inherited-blindness-301894514.html) by the U.S. Food and Drug Administration (FDA) this year. The HG00401 clinical trial (IIT study) for Leber congenital amaurosis type 2 (LCA2) using the same product of HG004 in this multinational, master-protocol trial (HG00402) for RPE65-IRDs also recently announced that the last-patient-dose has been completed with significant visual improvement and no safety concerns in both adult and pediatric populations.
"Following the completion of last-patient-dose in the IIT study on October 24, the successful completion of first-patient-dose in the HG004 multinational trial this week means that that company has reached another important milestone, particularly for the global footprint. We'll work diligently to advance this global multinational, master-protocol Phase 1/2a clinical trial to support simultaneous drug marketing approval and commercialization in the future," said Xuan Yao, Ph.D., Co-founder, President, and GM for Greater China of HuidaGene. "This milestone highlights our commitment to developing novel genetic medicines to patients with high, unmet needs and the strong execution capabilities of our team. We hope that this multi-regional trial with the potential to be registrational globally can bring new, transformative therapeutic options for individuals living with RPE65-IRD worldwide."
About RPE65 Mutation-Associated Inherited Retinal Dystrophies (RPE65-IRD)
Inherited retinal dystrophies (IRDs) are a group of rare blinding conditions caused by mutations in any 1 of more than 250 genes. Leber's congenital amaurosis (LCA), severe early childhood-onset retinal dystrophy (SECORD), early-onset severe retinal dystrophy (EOSRD), and retinitis pigmentosa (RP) which may all be grouped under the heading of IRDs caused by the mutations in RPE65 gene (RPE65-IRDs), are considered to represent a phenotypic continuum of the same disease. The RPE65-IRDs with a typical onset between birth and 5 years of age exhibit several common clinical findings, chiefly night blindness (light staring with profound nyctalopia and nystagmus), progressive loss of visual fields, and loss of central vision. Given the often severe and early visual loss associated with RPE65-IRDs, other areas of development including speech, social skills, and behavior may also be delayed.
About Multinational, Master-Protocol Clinical Trial of HG004 (NCT05906953; CTR20232920)
This multinational, multicenter, multiple-cohort, dose-finding, and master-protocol clinical trial is designed to evaluate the safety, tolerability, and efficacy of HG004 in patients with inherited retinal dystrophies caused by RPE65 mutations. The primary endpoints include adverse events, certain laboratory measures, and ophthalmic examinations. This HG00402 study will also assess visual function via. multi-luminance mobility test (MLMT) where subjects will be navigating a mobility course under a variety of light levels. Following the completion of the primary study period, subjects will continue to be assessed in a long-term follow-up study of HG004. For more information, please contact: HG00402@huidagene.com or visit http://clinicaltrials.gov
About HuidaGene - 辉大基因
HuidaGene Therapeutics (辉大基因) is a global clinical-stage biotechnology company focusing on discovering, engineering, and developing novel gene-editing tools and gene therapies to rewrite the future of genomic medicine. Based in Shanghai and New Jersey, HuidaGene is committed to addressing patients' needs globally with various preclinical therapeutic programs covering ophthalmology and neurology. We are currently advancing clinical programs of HG004 in inherited retinal disease caused by RPE65 mutations (which has been granted both ODD and RPDD by U.S. FDA), HG202 CRISPR/Cas13Y RNA-editing in neovascular age-related macular degeneration (nAMD), and our preclinical pipeline, including programs HG301 CRISPR/Cas12 DNA-editing in retinitis pigmentosa, HG204 CRISPR/Cas13Y RNA-editing in neurodevelopmental disease of MECP2 duplication syndrome (MDS) (which has been granted both RPDD and ODD by U.S. FDA), and HG302 CRISPR/Cas12 DNA-editing in neuromuscular diseases of Duchenne muscular dystrophy (DMD) etc. Company's CRISPR-based therapeutics offer the potential to cure patients with life-threatening conditions by repairing the cause of their disease. HuidaGene is committed to transforming the future of genome-editing medicine.
For more information, please visit http://www.huidagene.com
or follow us on LinkedIn at http://www.linkedin.com/company/huidagene